973-299-8237 (voice) 973-334-4953 (fax)
The Most Trusted Name in Test Strips

America's Number One Coolant Test Strips
Acustrip has earned a well-deserved reputation as America's number one manufacturer and distributor of coolant test strips. It's of little wonder that the name Acustrip is synonymous with quality test strips. For over two decades Acustrip has provided countless service centers and fleet managers with this simple, cost-effective tool for assessing the condition of a variety of fluids. The use of the strips has resulted in avoiding millions of dollars of preventable repairs. Service providers continue to report greater sales and customer satisfaction simply by using Acustrip's test strips. If you are not currently using our test strips you should definitely give them a try today!
Retail Outlets
If you manage a retail outlet, such as a Truck Stop or auto parts store, you will benefit by offering Acustrip coolant test strips to your customers. We offer point of sale retail kits for many of our products and will work with you to make sure that our test strips will increase your bottom line. Please contact us for details and so that we can put together a custom retail package that will benefit your particular situation. Acustrip is always delighted to work with retailers of any size!
Coolant Test Strips
Acustrip provides a variety of coolant test strips for all kinds of different coolants. Many of our test strips are available for purchase on line. If you can't find what you are looking for here on our web site feel free to contact us so that we can find a solution for your particular needs.
0
Item(s)
Total $
0.00
Good Coolant Starts
with Good Water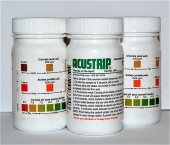 Our revolutionary ACU3300 Cool Check® strips allow you to determine the level of pH, Sulfate and Chloride of your make-up water in a matter of minutes. Quick and affordable results!
More Info