Acustrip Product Specifications and Instructions
Select a product from the list below to get a PDF copy of the product specifications and instructions. The selected instructions will open in a new window. Please contact us if you do not find what you are looking for or if you have any questions or comments.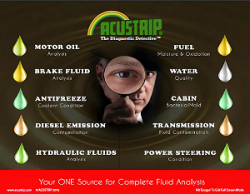 Acustrip manufactures and distributes a complete line of automotive fluid testing strips. The industry standard since 1987, Acustrip provides its American made tests worldwide to the automotive, commercial and industrial markets. Click here for a PDF of an overview of our product line. Click here for a copy in Spanish. Click here for a Japanese version.