973-299-8237 (voice) 973-334-4953 (fax)
The Most Trusted Name in Test Strips

Acustrip Products
ACUSTRIP ACU-R071 Series
More Info
Contamination Test for Extended Life Coolant
Glycol-Based Extended Life Coolant
Organic Acid Inhibit Level
Acustrip Accessories
More Info
Acustrip Accessories for Easy and Accurate Testing
Glycol-Based Coolant and Other
Ford Rotunda 328-2050
More Info
Ford Rotunda CTS-3 3-Way HD Antifreeze
Glycol-Based Coolant
Nitrite, Molybdate and Freeze Point
Ford Rotunda 328-071ELC
More Info
Contamination Test for Extended Life Coolant
Glycol-Based Extended Life Coolant
Organic Acid Inhibit Level
ACUSTRIP ACU1050 Series
More Info
Antifreeze Complete Test Kit
Glycol-Based Coolant
Nitrite, Freeze Point, Molybdate, pH and Reserve Alkalinity
ACUSTRIP ACU1530 Series
More Info
ACU1530 2-Way Auto Antifreeze
Glycol-Based Coolant
pH and Freeze Point
ACUSTRIP ACU1540 Series
More Info
Two-Way GSA/DLA Corrosion and Boil Over
Glycol-Based Coolant
RA and Freeze Point
ACUSTRIP ACU1550 Series
More Info
ACU1550 3-Way Long Life or Conventional Coolants
Glycol-Based Coolant
pH, Alkalinity and Freeze Point
ACUSTRIP ACU2050-3 Series
More Info
CTS-3 3-Way HD Antifreeze
Glycol-Based Coolant
Nitrite, Molybdate and Freeze Point
ACUSTRIP ACU2050-4 Series
More Info
CTS-4 4-Way HD Antifreeze Cool Check®
Glycol-Based Coolant
Nitrite, Molybdate, Freeze Point and pH
ACUSTRIP ACU3000 Series
More Info
3-Way HD Antifreeze
Glycol Based Coolant
Nitrite, pH and Freeze Point
ACUSTRIP ACU3000-NOAT Series
More Info
3-Way HD Antifreeze Coolant NOAT
Red Extended Life Glycol Based Coolant
Nitrite, pH and Freeze Point
ACUSTRIP ACU3300 Series
More Info
Cool Check® Coolant Quality Test
Glycol-Based Coolant
Chloride, Sulfate and pH
ACUSTRIP ACU4001 Series
More Info
Moisture in Waterless Coolant
Waterless Coolant
Moisture
ACU-4048 Series
More Info
3-Way HD Antifreeze and ELC Contamination
Glycol-Based Extended Life Coolant
Nitrite, Molybdate, Freeze Point and pH as well as Organic Acid Inhibit Level
ACUSTRIP ACU5050 Series
More Info
CTS-5 Cool Check® 3-Way Water Check
Coolant Make-Up Water
Hardness, pH and Chloride
ACUSTRIP 5113Pen
More Info
5113 Conductivity (TDS) Pen
All Coolants
Total Disolved Solids
ACUSTRIP 5610Pen
More Info
5610 pH Pen
All Coolants
pH
ACUSTRIP ACU6000 Series
More Info
Moisture Test for Brake Fluid
Brake Fluid
Moisture
ACUSTRIP ACU8000 Series
More Info
ACUTEST-2 Coolant Quality and Brake Fluid Moisture Test
Glycol-Based Coolant and Brake Fluid
pH, Alkalinity and Freeze Point as well as Brake Fluid Moisture
ACUSTRIP Moisture Test
More Info
Test For the Presence of Moisture in Oils
Other
Moisture
40132 Series
More Info
Corrosion (Carboxylate Inhibitors) Test for Extended Life Coolant
Glycol-Based Extended Life Coolant
Carboxylate Inhibitors
Antifreeze Coolant HD ELC 40240
More Info
ACUSTRIP ELC Test
Glycol-Based Coolant ELC Antifreeze Coolant
Freeze Point, OAT, Nitrite, pH
Urea DEF Concentration Tester
More Info
Test DEF for Urea Concentration
DEF
Urea Concentration
ACUSTRIP Brake Fluid pH Test
More Info
pH Test for In Service Brake Fluid
Brake Fluid
pH
ACUSTRIP Low Levels Wear Metals Test
More Info
Test Most Fluids for Wear Metals
All Coolants Other
Heavy Metals
ACUSTRIP Bacteria/Mold Test
More Info
Test For the Presence of Bacteria and Mold
Other
Bacteria and Mold
Shell ROTELLA® Antifreeze Coolant Test 480507
More Info
Distributors Invited to apply for Distributor Volume Discount
Glycol-Based Extended Life Coolant
Antifreeze Coolant OAT (organic acid technology) Additive Levels
ACU480508 Series
More Info
Oil (Hydrocarbons) in DEF Test
DEF
Hydrocarbons
ACUSTRIP 481000 Series
More Info
Test for Arsenic in Water
Water
Arsenic
ACUSTRIP 487986 Series
More Info
Home Water Quality Test
Home Water
Common Contaminants
ACUSTRIP 711254 Series
More Info
Antifreeze Coolant Test for ATF
All Coolants Transmission Fluid
Coolant
Hand Held Refractometer for Multiple Fluids
More Info
Hand Held Refractometer for Antifreeze, Battery Fluid and DEF
Other
All Coolant Battery Fluid DEF
ACU987600 Series
More Info
Ethanol in Fuel Test
Fuel
Ethanol
0
Item(s)
Total $
0.00
Acustrip CTS-4
(ACU2050-4 Series)
The Acustrip CTS-4 test strips are the premium 4-Way HD Antifreeze test used to check SCA and freeze point as well as pH in antifreeze coolant. These four-way test strips quickly, easily and affordably measure Glycol, Molybdate, Nitrite and pH.
More Info
Acustrip DEF Test
(Acustrip 44-863)
The Acustrip 44-863 test strips are used to determine if there has been contamination to the diesel exhaust fluid tank. Simply remove the DEF from the tank using a syringe prior to the strip being immersed and agitated.
More Info
3-Way Long Life or Conventional Coolants
(Acustrip 1550)
The Acustrip 1550 series of test strips are suitable for the measurement of all types and colors of automotive coolant. These strips measure freeze point and RA when used to test conventional coolant or freeze point and pH when used to test extended life coolant.
More Info
Cool Check® Coolant Quality Test
(Acustrip 3300)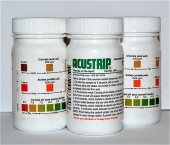 Our revolutionary Cool Check® strips allow you to determine the level of pH, Sulfate and Chloride of your make-up water in a matter of minutes. Quick and affordable results!
More Info